By
Barry
on Thursday, March 20th, 2014 |
Comments Off

on Leaders Eat Last – Part 3; Culture Trumps Everything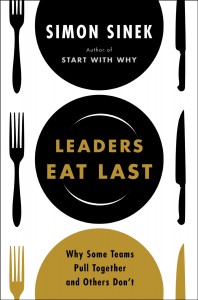 This month, in The Platform Builders Mastermind group, we are working our way through Simon Sinek's recently released "Leaders Eat Last – Why Some Teams Pull Together and Others Don't."
Sinek, the author of Start With Why, provides a deep look into what creates the most effective teams and more importantly, what keeps them working together, even during the most difficult of times.
This is one of those books that will take you a little bit longer to read because so many thoughts require you to take another look, just to make sure you understood the power behind them.  A phenomenal effort by Sinek, Leaders Eat Last not only looks at the dynamic of the team but of the individuals that make up that team.
What really sets this book apart is Sinek's unique look at why some people make good leaders and others don't and the "why" behind the results they get.  In this post, the third of four, I will attempt to capture the basic thoughts of the eight parts of the book.
PART 5: THE ABSTRACT CHALLENGE
ABSTRACTION KILLS – Interesting how much our behavior changes when we are not directly connected to the outcome.  Sinek provides an interesting look at how what can happen when we simply follow orders or instructions and disconnect from the results of our actions when we don't actually "see" the outcome of them.
MODERN ABSTRACTION – A great discussion on the impact of what happens when a employer or leader becomes more concerned about the numbers than the people.  Caring about your people will produce the numbers.  Never forget that!
MANAGING THE ABSTRACTION – A great quote from this chapter "We like to actually be around people who are like us.  It makes us feel like we belong."  As good as the virtual world is becoming, it will never replace sharing the same physical space with like-minded individuals.
IMBALANCE – Simple but powerful thought here.  No matter how good something may be, or appear to be, it still needs to remain in balance with everything else. Too much abundance can be a damaging as not enough – maybe even worse!
PART 6: DESTRUCTIVE ABUNDANCE
LEADERSHIP LESSON 1 – So Goes The Culture, So Goes The Company – Culture trumps everything.  A leader must provide focus and intentionally keep the culture of the company as a priority.  Sinek quotes a former Goldman Sachs employee who described the company as "an environement with no trust, no mutual respect, and above all, no accountability when things went wrong."
LEADERSHIP LESSON 2 – So Goes The Leader, So Goes The Culture – Some great thoughts here about leaders that empower their people.  Your people will act as you do and treat others as they are treated.

LEADERSHIP LESSON 3 – Integrity Matters – A great piece of wisdom here with this one, "Integrity is not about being honest when we agree with each other; it is also about being honest when we disagree, or even more important, when we make mistakes or missteps."
LEADERSHIP LESSON 4 – Friends Matter – Sinek suggests that cooperation doesn't mean agreement, it means working together to advance the greater good, to serve those who rely on our protection, not to rack up wins to serve our team or ourselves.  We need friendly relationships and need to keep our agenda separate in order to work cooperatively. (Tweet This)
LEADERSHIP LESSON 5 – Lead The People, Not The Numbers – A great observation made here by Sinek, "When a leader has the humility to distribute power across the organization, the strength of the company becomes less dependent on one person and is thus better able to survive."  Building up your people and making sure that they have a path to success is leadership, not the bottom line.  Lead well, and the bottom line will take care of itself.
HOLDING YOUR PEOPLE ACCOUNTABLE
My favorite take from this section of the book comes from Sinek's summary of Captain David Marquet's Turn the Ship Around.  He says this, "It is a leader's job instead to take responsibility for the success of each member of his crew.  It is the leader's job to ensure that they are all well trained and feel confident to perform their duties.   To give them responsibility and hold them accountable to advance the mission."
Read that again and just think about it for a minute.  Does that describe your leadership style?  How about the person that is leading you?
***********************************************************************
Click here to get a copy of my Kindle Book "The Manifesto Of An Influential Leader"
Don't miss a single post from Building What Matters by subscribing at the top left of this page. 
Help support us by clicking here and Liking our facebook page
Barry Smith  3/20/14   photo courtesy of amazon   © Building What Matters 2014