LIFE'S GREATEST LESSONS ARE GAINED FROM OUR LOSSES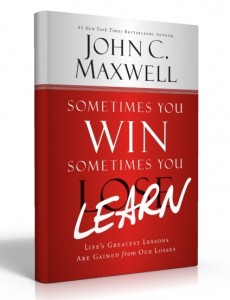 Any setback, whether professional or personal, can be turned into a step forward when you posses the right tools and mindset to turn a loss into a gain. Drawing on nearly fifty years of leadership experience, Dr. Maxwell provides a roadmap for winning by examining the eleven elements that constitute the DNA of learners who succeed in the face of problems, failure, and losses.
Learning is not easy during the down times.  It takes discipline to do the right thing when something goes wrong.  As John Maxwell often points out – experience isn't the best teacher; evaluated experience is.
Join me, along with other like-minded individuals, focused on improving their own circumstances and taking control of their life as we learn together how to overcome the challenges that face us every day.  At the end of seven weeks you will learn that there is no longer losing, only lessons learned.
Investment for this 7 week transformation:  $197
Meetings will be held at:
Riverview Community Bank
225 NE Burnside
Gresham, OR 
7 Week Mastermind Group starting:
Starting Tuesday, October 29th
12:00-1:15
Book and PDF Learning Guide Provided
BONUS OPTION:  Take the John Maxwell Leadership Assessment for an additional $199 and I will debrief your results with you at no additional cost.
MASTERMIND 7 WEEK SCHEDULE
WEEK  1
Introduction
CH1 When You're Losing, Everything Hurts
WEEK  2
CH2 Humility: The Spirit of Learning
CH3 Reality: The Foundation of Learning
WEEK 3
CH4 Responsibility: The First Step of Learning
CH5 Improvement: The Focus of Learning
WEEK 4
CH6 Hope: The Motivation of Learning
CH7 Teachability: The Pathway of Learning
WEEK  5
CH8 Adversity: The Catalyst for Learning
CH9 Problems: Opportunities for Learning
WEEK 6
CH10 Bad Experiences: The Perspective for Learning
CH11 Change: The Price of Learning
WEEK 7
CH12 Maturity: The Value of Learning
CH13 Winning Isn't Everything, But Learning Is
Click this link to download the flyer ==>  SYWSYL MMG 10.29