OVERCOME THE ISSUES THAT ARE KEEPING YOU FROM REACHING YOUR POTENTIAL AND START LIVING THE LIFE YOU WERE DESIGNED TO LIVE
10 WEEK DEEPER PATH COHORT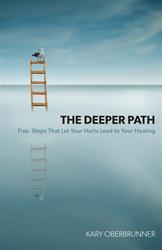 CONTACT: barry@buildingwhatmatters.com to find out when the next cohort starts
Meetings will be held at:
Riverview Community Bank
225 NE Burnside
Gresham, OR
"Two days of your life stand out far above the rest – the day you were born and the day you discovered why. This book is written for those who desire to answer to the second question and this answer is only found by taking The Deeper Path" (From The Deeper Path book). 
Do you feel stuck in your personal or business life?
Do you feel like there is more to life but can't figure out what it is?
Do you feel like you need to add clarity in your life?
Do you know what your "why" or your purpose is?

What would your life look like and feel like if your work felt like play?  What if life felt like this:
A master in the art of living draws no sharp distinction between his work and his play; his labor and his leisure; his mind and his body; his education and his recreation. He hardly knows which is which. He simply pursues his vision of excellence through whatever he is doing, and leaves others to determine whether he is working or playing. To himself, he always appears to be doing both.–   L.P. Jacks

Herein lies the power of The Deeper Path.  Through this cohort, you will learn your OPUS and your CORE.  Utilizing a powerful model developed by Author Kary Oberbrunner and his coach Chet Scott – I will lead you through a clear process that will equip you to author your OPUS and strengthen your CORE.
What is your "OPUS"? It's the Latin word for "work." It means "masterpiece." I believe our lives can and should be our Magnum Opus (our "greatest work").  You can move from disengaged in your life and work to being engaged- fully alive because you understand your unique role in the world.  You matter.  You have a purpose.  Joy…fulfillment in life…comes from knowing your "why".
The Deeper Path Cohort will equip you to author your OPUS:
O = Overarching Vision
P = Purpose
U = Unifying Strategies
S = Scorecard for Significance
Simply put, when you complete this process, your dream (overarching vision) will be clear and recorded on paper and you will have authored a clear, strategic process for accomplishing your great purpose.
The Cohort will also strengthen your CORE (the backbone that supports your vision) by helping you clarify your 6 PACK:
Worldview = What do I believe?
Identity = Who am I?
Principles = What do I value?
Passion = Who / What do I love?
Purpose = Why I live and work?
Process = How do I do it?
Perhaps you are wondering what a "Cohort" is.  The Deeper Path Cohort is simply a group of up to 10 people, that "meet" once a week to grow together, hold each other accountable and encourage each other along the way.
The Deeper Path Cohort includes:
10 Group Coaching Hours (Mondays from 12:00pm – 1:00pm)
1 Copy of "The Deeper Path" by Kary Oberbrunner
1 Deeper Path Workbook (Hardcopy and PDF)
1 personal OPUS (You author with my facilitation)
1 personal CORE 6 Pack (You author with my facilitation)
1 Soul on Fire Worksheet (You complete)
Playbook of Productive Action (You complete with my facilitation)
This process will change your life and empower you to live the life you were designed to live.  Join this Cohort and get a GPS for achieving your dreams and start living up to the potential that is awaiting you.
The investment for The Deeper Path Cohort is $497.
Click here to register for this Cohort or bring a check to the first session.
For additional information please contact me at barry@buildingwhatmatters.com or at 971-221-9495
Read Barry's OPUS by clicking here