EXPERIENCE

the

POWER

of

PERSONAL & PROFESSIONAL GROWTH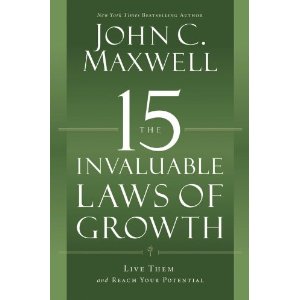 Are you interested in Personal Growth or know someone who might be?  I will be facilitating three Mastermind study groups in January to kick off the year right.
John Maxwell introduced his 73rd book "The 15 Invaluable Laws of Growth" last October and it has been a huge success.  He brings the best of his 40 year personal growth journey into 15 chapters that will change the way you view your own personal journey to reaching your potential.
For those of you not familiar with a Mastermind Group, it is a group of like-minded individuals meeting together with common objectives and goals.  We will share, support and encourage each other to move closer to reaching our potential in both our personal and professional lives.
If you are feeling "stuck", don't understand your purpose or simply know that the is something more in life but you just can't quite figure out what it is, you will want to be part of one of these groups.
Invest in yourself and register below so you don't miss out on this great opportunityt to become the person you were meant to be.
Investment for this 8 week transformation:  $147
Meetings will be held at:
Riverview Community Bank
225 NE Burnside
Gresham, OR
Contact barry@buildingwhatmatters.com for more information on the date of our next Mastermind on The 15 Invaluable Laws of Growth
MASTERMIND 8 WEEK SCHEDULE
WEEK  1
Introduction
CH1 The Law of Intentionality – Growth Doesn't Just Happen
WEEK  2
CH2 The Law Of Awareness – You Must Know Yourself To Grow Yourself
CH3 The Law of the Mirror – You Must See Value in Yourself to Add Value to Yourself
WEEK 3
CH4 The Law of Reflection – Learning to Pause Allows Growth to Catch Up with You
CH5 The Law of Consistency – Motivation Gets You Going – Discipline Keeps You Growing
WEEK 4
CH6 The Law of Environment – Growth Thrives in Conducive Surroundings
CH7 The Law of Design – To Maximize Growth, Develop Strategies
WEEK  5
CH8 The Law of Pain – Good Management of Bad Experiences Leads to Great Growth
CH9 The Law of the Ladder – Character Growth Determines the Height of Your Personal Growth
WEEK 6
CH10 The Law of the Rubber Band – Growth Stops When You Lose the Tension Between Where You Are and Where You Could Be
CH11 The Law of Trade-Offs – You Have to Give Up to Grow Up
WEEK 7
CH12 The Law of Curiosity – Growth Is Stimulated by Asking Why?
CH13 The Law of Modeling – It's Hard To Improve When You Have No One but Yourself to Follow
WEEK 8
CH14 The Law of Expansion – Growing Always Increases Your Capacity
CH15 The Law of Contribution – Growing Yourself Enables You to Grow Others