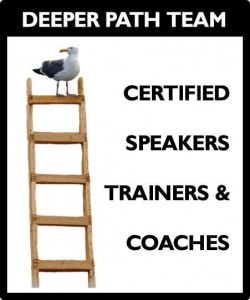 My friend and mentor Kary Oberbrunner, recently released his book The Deeper Path. Kary states that the two most important days of your life are the day you are born and the day you discover why.
The first part of the book talks about THE WHY. What is your why?  Your why is what really drives you and most people don't know what their why is, let alone understand it.
The second part of the book focuses on THE HOW. How do we discover our why and what do we do once we have identified it?
The third part is THE WHAT.  The what is using your why to design your greatest work. Your masterpiece. your OPUS.
I completed a ten week journey to author my own OPUS.  The impact was so life changing that I became part of Kary's Deeper Path Team so I could help others author their own OPUS.
To learn more about The Deeper Path go to www.deeperpathbook.com.
Gain major clarity on your:
Overarching Vision
Purpose
Unified Strategies
Scorecard for Significance
If you are interested in taking this journey yourself and authoring your own OPUS, please contact me at barry@buildingwhatmatters.com to find out when I am starting my next 10 week Cohort.