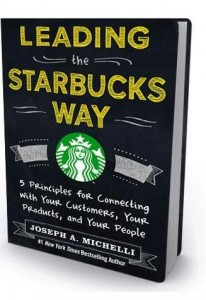 This month in the Platform Builders Mastermind Group, we are diving into "Leading The Starbucks Way: 5 Principles for Connecting with Your Customers, Your Products, and Your People" by Joseph A. Michelli.
Sure this book is about Starbucks, but it's much bigger than that.  Michelli shows why Starbucks has become the coffee bean superpower of the world.  And it has nothing to do with the beans.  I guess that's not entirely true, but their success is built much more around who is serving rather than what is being served.
I will admit, I have invested my fair share in the Starbucks brand but I never gave a thought as to what goes on behind the grinder, so to speak.  Michelli explores 5 Principles that give Starbucks the advantage over their competition and I for one, will pay much more attention to what is going on behind the counter next time I visit my local Starbucks.
Definitely a great look at what has made Starbucks so successful, but at the same time, the bar has been set very high for them to continue to live up to their reputation.
In this, the first of three posts, I will recap Michelli's exploration of "The Starbucks Connection" and Principle 1 – Savor and Elevate.
THE STARBUCKS CONNECTION
The story starts with Howard Schultz stepping back into the role of Chief Executive Officer in 2008.  Schultz introduced his "Transformation Agenda" establishing a forward-looking vision that enhanced the companies established mission.  Michelli shares that:
"While the Starbuck mission was "to inspire and nurture the human spirit – one person, and one cup and one neighborhood at a time," the transformation vision set an energizing and rallying objective, "to become an enduring, great company with one of the most recognized and respected brands in the world, known for inspiring and nurturing the human spirit."
Whether you are a fan of the coffee or not, I guarantee you will look at the organization differently after giving this book a look.  The investment that Starbuck makes in their people is impressive.  Their commitment is to not only continually improve the product but the way they connect with the customer.  It's not too hard to figure out why your local Starbucks is always full.
PRINCIPLE 1 – SAVOR AND ELEVATE
There are many great quotes about the Starbucks philosophy throughout, but the message is consistent.  Connect with your customer and create an experience that will be remembered long after that last sip from the cup.
This is done by being passionate about your product and the service provided to deliver it and do it in a way that inspires the customer to share the same passion.  Here is a great quote that represents the Starbucks culture:
"We take the ordinary … and give it new life, believing that what we create has the potential to touch others' lives because it touched ours."
It is clear that Starbucks culture is built around both the customer and the product and it's hard to tell which is top on the priority list but one thing is clear, they are completely committed to make both the best.
This is probably my favorite quote from this section of the book; "all business settings are a stage from which all experiences emerge."  (Tweet This)  What if we all looked at our business that way?  People are going to pay for your service or your product or both.  The real question becomes, will they enjoy it?  The answer to that will determine whether or not they come back.
TODAY'S QUESTION:  Your brand is really a representation of who you.  What are you doing to use that brand to create an experience that will get your customer or client to share in your passion?
***********************************************************************
===> JOIN THE "LEADERSHIP BY INVITATION" LAUNCH TEAM <===
Click here to get a copy of my Kindle Book "The Manifesto Of An Influential Leader"
Don't miss a single post from Building What Matters by subscribing at the top left of this page. 
Help support us by clicking here and Liking our facebook page
Barry Smith  4/10/14   photo courtesy of amazon   © Building What Matters 2014