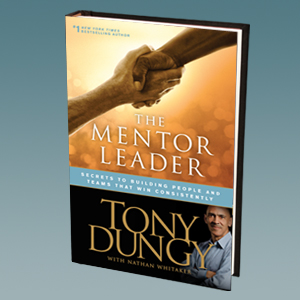 This is the second of three posts discussing "The Mentor Leader – Secrets To Building People And Teams That Win Consistently" by Tony Dungy.  I will admit, I have been a fan of Coach Dungy since long before his first book "Quiet Strength" was published.  I have been so impressed not by what Coach Dungy has done but by who he is, and more importantly how he has impacted so many lives around him.
His third book, The Mentor Leader, unlocks the concept of leadership much more than Quiet Strength or his second book, Uncommon, had done previously.  Make no mistake, they are all worth the read, but The Mentor Leader brings it all home.
The subtitle, secrets to building people and teams that win consistently. says it all. Mentor Leadership is about building people and when you do that, success is sure to follow.
I will break the book's nine chapters into three posts.  The first will discuss the Mandate, Mind-set and Maturity of a mentor leader.  The second will cover the Marks, Moments and Model of a mentor leader and the final will address the Means, Methods and Measure or a mentor leader.
THE MARKS OF A MENTOR LEADER: CHARACTERISTICS THAT MATTER
"Being approachable and available is necessary for effective leadership."
Mentor Leaders are high in character.  They know who they are and what they stand for.
Mentor Leaders exhibit trustworthy traits such as competence, integrity and self-confidence.
Mentor Leaders demonstrate leadership attributes such as courage, vision, mission and faith.
Mentor Leaders have strong relational skills such as accountability, shepherding and loyalty.
The marks of a mentor leader define much more than what that leader does.  They define who that person is.
THE MOMENTS OF A MENTOR LEADER, INFLUENCE AND IMPACT
"Regardless of our situations in life, we are always role models for someone – always."
Mentor Leaders know they can only change one life at a time.
Mentor Leaders are prepared to act when Unexpected Opportunities become available.
Mentor Leaders understand that others are watching and act as role models.
Mentor Leaders seek out and take a proactive role in mentoring others.
A mentor leader recognizes that not all moments to make a difference in someone's life will be planned out.  The difference is that they are ready, and willing, to act when opportunity knocks.
THE MODEL OF A MENTOR LEADER: LIVING THE MESSAGE
"When you are in a crisis, it's too late to try and get people to follow you."
Mentor leaders are known for both their words and actions.
Mentor leaders are known and respected for commitment to their faith.
Mentor Leaders are known by the legacy they are creating.
I believe the best way for a mentor leader to lead is to develop other leaders.  The life of a mentor leader may be remembered for their defining moments, but the true measure of a mentor leader is in how many defining moments they can help create for others.
My son and I have traveled over 1,500 miles over the last four days and we have seen all types of people living in a variety of different ways.  Several of them, without even knowing their stories, could have benefited from a mentor in their life.
So I have one question for you today related to your influence on others.  "When opportunity knocks, will you be ready?"
To see part one of The Mentor Leader click here
***********************************************************************
Don't miss a single post from Building What Matters by subscribing at the top left of this page. 
Help support us by clicking here and Liking our facebook page
Barry Smith    7/10/13   photo by amazon   © Building What Matters 2013
//