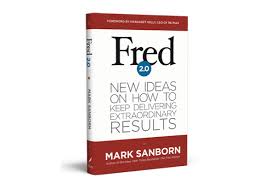 If you have been following me for a while, you probably know that I transitioned from a 30 year career in Construction to become a coach, speaker, trainer and author focused on Communication, Growth and Leadership.
Part of the reason I chose this change was because I want to create a legacy that will be remembered and I want to make a difference "that makes a difference."  One way to do that is to be a FRED.
My wife and I recently took a trip to Oahu to visit our oldest son Scott, who will be graduating from the University of Hawaii in December.  On the flight over I read Mark Sanborn's "The Fred Factor" and on the return flight finished the sequel, "Fred 2.0."
This is the final of three posts on Fred 2.0.  For those looking to read Fred 2.0, I would suggest reading the original first.  You really need to know the story behind Fred to appreciate what Sanborn delivers in 2.0.
Sanborn gives a pretty good summary of the book with the subtitle, "New Ideas On How To Keep Delivering Extraordinary Results."
In a nutshell, the original Fred was Sanborn's postman, and Fred went over and above to be more than just ordinary.  Fred's commitment to "going the extra mile," was Sanborn's inspiration for the first book.
In 2.0, Sanborn takes a deeper look at the four basic Fred principles:
Everybody makes a difference.
It is all built on relationship.
You can add value to everything you do.
You can reinvent yourself continually.
Through these three posts, I will give a key thought from each of the books' 15 chapters.
WHAT IT YOU'RE A HEAD FRED?
Sanborn asks a great question when he says; "The real test of leadership is this: is anyone or anything better because of you?"  He adds; "Leaders don't just tell a better story; they make the story better."  He gives 10 things you need to do to be a head Fred.

Lead by example
Start with what's right instead of what's wrong
Encourage people to try
Ask for and share ideas about how to be like Fred
Remove barriers and obstacles
Be their champion
Give them the freedom they need
Teach the Fred principles consistently
Recognize and reward
Enjoy
BUILD A FRED TEAM
Sanborn makes a great point when he says "The only thing more powerful than a committed individual is a team of committed individuals."  Can you imagine what it would be like if your entire team had an attitude like Fred?  He goes on to give four things that every team needs. Interesting to me that he points out that these four things don't necessarily have to come from the team leader.

Encouragement
Examples
Ideas
Recognition
RAISE A FRED JR.
As leaders, there is nothing more important than the influence we have on our children. Sanborn gives us what he refers to as "Fred Values."

Teach your children well
Don't stop with your own children
It always starts with a relationship
Reward reading
Start a conversation
Explain and engage
Don't dumb it down, but keep it simple
Recognize any effort
CREATE A COMMUNITY OF FREDS
As leaders, we desire to leave a legacy and influential leaders work hard to create a legacy that actually means something and impacts the community they live in.  Sanborn encourages us to "Spread the spirit of Fred."

Take the lead
Identify the objectives
Find like-minded people
Create interest
Involve as many people as you can
Regularly recognize and reward at a community level
BEST ALWAYS
Clearly the idea of Fred is to go over and above and to do it consistently.  No better way to wrap up this book then to suggest the idea that we strive to provide our best always. Sanborn gives us his thoughts on how to do that.

Slow down
Get out
Pay attention
Do something
Enjoy life
Get better
I had the wonderful opportunity to be on a phone call earlier this week with Mark Sanborn and it was clear that he has become a product of his product.  His desire to add value to his community is extremely evident, not just in his writing but in many things he is currently working on.  He suggests three simple, yet powerful kinds of love that will allow you to do and be your best.
LOVE WHAT YOU DO
LOVE THE PEOPLE YOU SERVE WITH
LOVE THE PEOPLE YOU SERVE
My question for the day, actually three questions; "Put the words "DO YOU" in front of the three statements above.  How would you answer those questions?"  If you don't like the answers, you might just need some more FRED in your life!
***********************************************************************
Don't miss a single post in this series from Building What Matters by subscribing at the top left of this page.
JOIN ME ON A FREE CALL INTRODUCING "THE 5 PILLARS OF INFLUENTIAL LEADERSHIP" ON MAY 23RD
Help support us by clicking here and Liking our facebook page
Barry Smith    5/22/13   photo courtesy of michaelhyatt.com    © Building What Matters 2013